How GSK partners with Uptree to reach and support a diverse future talent network
Uptree spoke with GSK about the current challenges for students in a rapidly changing world and why our partnership is so important.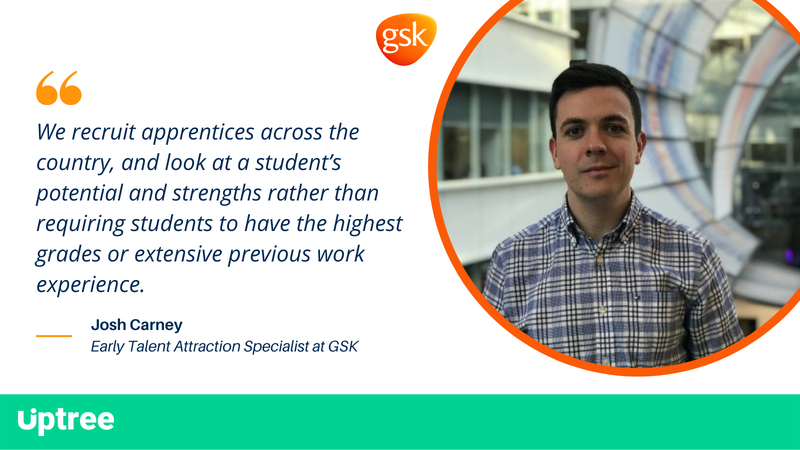 Josh works for GSK, one of the world's largest healthcare companies, in the Early Talent Recruitment team. Josh is responsible for running the recruitment process and attraction for GSK's early talent opportunities, such as the Apprenticeship programme in the UK. Prior to this role, Josh worked in university recruitment, with several years of experience in the Higher Education sector.
Overview of GSK-Uptree partnership
Global healthcare brand GSK has been partnered with Uptree since 2019, enabling them to reach and engage with diverse talent whilst helping students find out about the brand and the life saving work they do. GSK is committed to improving diversity and inclusion within their organisation and through Uptree, they have been supporting diverse young people to learn about their work and opportunities.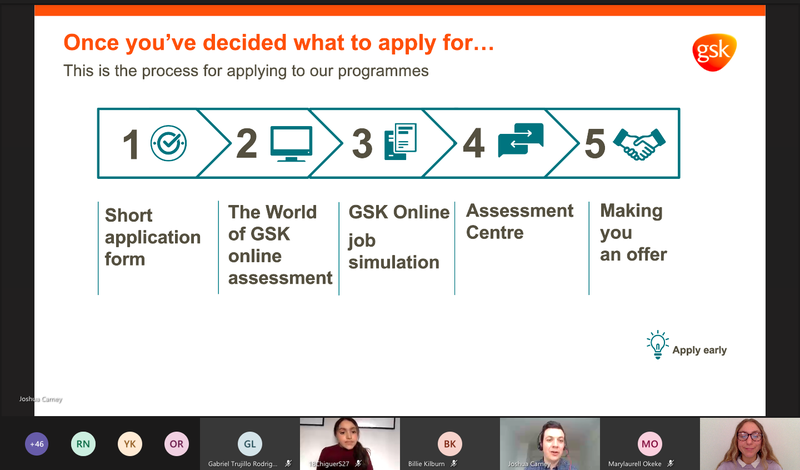 A recent work experience day (online) which GSK held for Uptree students in Term 2
What are the current challenges you see for young people who want to get into STEM roles at GSK & more broadly?
Students often have the idea that a successful career within STEM, particularly in healthcare and pharmaceutical companies, requires straight As at school and a degree from a top ranked university. In reality, there are many different pathways into GSK and other similar organisations.
We recruit apprentices across the country, and look at a student's potential and strengths rather than requiring students to have the highest grades or extensive previous work experience. I think students also assume companies like GSK only recruit science students interested in working in a lab – we actually have roles across many other business functions such as Tech, Engineering, Supply Chain and Business.
I was terrible at science subjects at school so there's proof you don't need to be a scientist to have a career at GSK!
Why do you think partnerships are so important when it comes to reaching early careers talent & solving these challenges?
Partnerships with organisations such as Uptree are important for us to be able to reach students we have typically struggled to do so.
Uptree are experts in this area, so these partnerships really enable us to widen our pool of potential applicants which is really key for our programmes to recruit the best talent, and the most diverse talent we can.
Tell us more about how GSK and Uptree are working together.
We have run several virtual work experience insight day events with Uptree. We've been really impressed by the students who have attended, and the engagement shown from them on the day.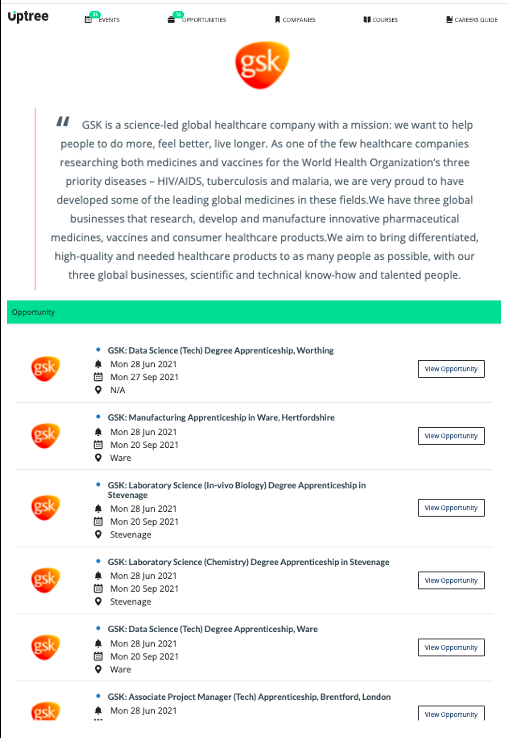 Uptree have also been promoting GSK apprenticeships with their school partners and letting students know about our opportunities!
What is your favourite part about working with Uptree?
Aside from the fact Uptree help us to reach a wider pool of talent than we can alone:
I think the detailed feedback the Uptree team provide really help them stand out from other partners we work with.
After every event and activity they provide a really useful breakdown of participants and feedback which is incredibly useful when aiming to make our events as impactful as possible, and also useful when sharing with colleagues internally.
A big thank you to Josh for putting this great interview together and to GSK - and all the volunteers - who create fantastic work experience days and Application Masterclasses for the Uptree student network. If you and your company would like to partner with Uptree to reach our brilliant students, we'd love to chat with you: info@uptree.co