How Uptree school sessions showcase career routes into your industry
Uptree's very own Education Administrator and Associate Presenter Maryam shines a light on Uptree's assemblies and workshops, discussing the benefits of highlighting key career routes to students.
In my own experience as a student, I know how overwhelming it can be to think about all the career paths available to me. Many young people feel the same way. On the other hand, there are also young people who are concerned that there are not many career pathways they know about. I certainly experienced this dilemma myself, particularly as a first-generation student navigating my way through various career and industry prospects.
My role as a school presenter at Uptree means I can remedy this common dilemma for students through school assemblies and workshops. Uptree workshops and assemblies are excellent opportunities to spotlight companies and industries as well as highlight apprenticeship and scholarship programmes to young people across the UK. It enlightens students beyond the curriculum, helping them consider various employers in numerous sectors: from law, to finance, to marketing and many more. In doing so, we help students explore and land a job in the field they desire. Both forms of presentations help bridge the gap between education and careers for young people.
Here are some ways our assemblies and workshops help young people access early career opportunities with our Employer Partners.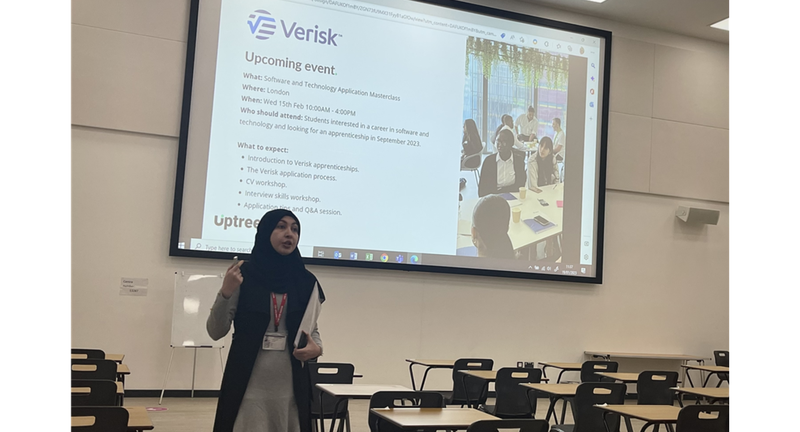 Increasing brand and industry awareness
Having delivered a number of assemblies and workshops myself, they are an excellent way to spotlight opportunities that are not as mainstream for young people, such as apprenticeships. In fact, our 2022 student survey revealed that 45% of students rated their knowledge of apprenticeships below 'good'. It is therefore imperative to educate young people on various career prospects available to them. Our work through our school partnerships play a significant role in exploring these pathways for young people.
Our assemblies also inform young people of various events, including Work Experience Days and Application Masterclasses offered by employers across a range of sectors. Meanwhile, our workshops are an interactive opportunity for young people to expand key skills and knowledge to help with future employment. From our general employability to industry-specific workshops, we breakdown all the necessary skills and knowledge needed to succeed in various industries which help students apply to Early Career opportunities.
"The assembly was very useful, it made me realise how important it is to gain work experience with well-established companies and to be proactive outside of school so that it can help me when choosing my career path and my post-18 plans" (Student from Harrow High School, September 2022)
Bridging the gap between education and Early Careers
Our workshops provide an interactive opportunity for students to learn about Early Career opportunities. Our work with schools means that young people have better access to different employers and industries. From the competitive pathways in STEM, law, finance, to booming sectors in technology and media, students are able to learn about careers beyond the school curriculum.
Our survey report from last year highlights that over three quarters of state school teachers (88%) felt that their teacher training didn't prepare them to deliver careers information and guidance to students. It is therefore important for us to share these prospects to young people, showcasing the plethora of opportunities available to them, beyond university as the traditional pathway. Ultimately, our career-focused sessions encourage students to apply to our Employer Partners' various Early Careers programmes which include summer internship and apprenticeship opportunities.
"As a student, bridging the gap between school and work is a challenge. With employability events such as FuturesUP, I have learnt how to be more confident in making a good, professional impression, and applying those employability and transferable skills that I have learned at school to a professional environment." (Hilma, FuturesUP attendee, February 2022)
Nurturing career ambitions
Following our assemblies, I have found that young people are often compelled by their curiosity and career ambitions to explore the services we provide and how they can secure a career with one of our Employer Partners. Students are sign-posted to online learning courses, 1:1 support calls, interview advice and CV templates before exploring work experience and application masterclass events. This has led to many success stories from young people at Uptree, such as Hamza who secured a Solicitor Apprenticeship at Norton Rose Fulbright using our platform.
We also provide exclusive insights and opportunities for professional networking at our FuturesUP events. These are multi-industry careers events comprising Q&A panels led by inspiring speakers from various sectors, as well as panels which demystify less conventional career paths, such as apprenticeship schemes. This is followed by speed networking where students can have further 1:1 discussions with our Employer Partners.
"I wanted to thank you and your colleagues for organising such an amazing event. This was an excellent opportunity and I have gained more knowledge about apprenticeships and your partner companies. This was my first Uptree event and it was great! I am looking forward to working you and your colleagues again in future events and hopefully as a student ambassador" (Abigail, FuturesUP, February 2021)
Ultimately, our presentations are an excellent starting point for young people to consider career pathways. They help to showcase various career options, and how Uptree can support young people to attain these opportunities with our Employer Partners. By providing assemblies, workshops, and opportunities with our Employer Partners, we aim to inspire young people to confidently explore the career paths that are available to them.
Contact the Uptree team to discuss how we could support your organisation with promoting Early Careers opportunities to a diverse future talent pool of young people.
Written by Maryam Al-Makhzoumi
Education Administrator and Associate Presenter at Uptree