Student view: Facebook apprenticeship & application masterclass webinar
In April, Facebook ran an Application Masterclass webinar for students interested in STEM careers, such as their Software Engineering Apprenticeship .
Catrina from the The Douay Martyrs Catholic Secondary School attended the online session and shares her experience so that other students know what to expect during these types of sessions.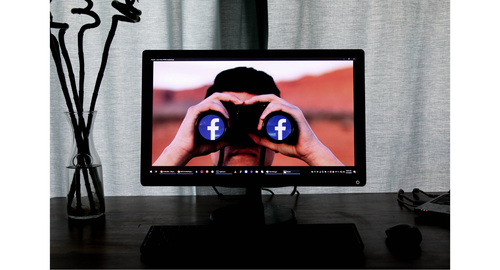 Tell us about the lead up to the event
I was lucky enough to attend a webinar organised by Facebook and Uptree on Zoom - it was an informative and enjoyable experience. Before the event, I had previously been to a few other events organised by Uptree whereby they widened my knowledge on pathways I could take after A Levels.
Due to the current situation, Uptree has continued to bring masterclasses to students with online sessions; having access to these online sessions have been beneficial because I was able to connect with staff from large organisations and be able to listen in my own comfort which was very convenient.
How did you find the webinar?
The Facebook webinar was very enlightening and educational. To begin, we were given a presentational video about Facebook and how it all started. To complement that, we were also given the chance to play a game of Kahoot with the other students in the call, sadly I came 45th!
To follow on, we had speakers from their recruiting team to describe the Facebook working culture. Throughout the duration of the session there was a Q&A chat function which allowed us to get questions answered either by a speaker or on the chat.
Furthermore, Graham a software engineering manager at Facebook, talked about his experiences before he got his job and had inspired me to believe that maybe I could have a job like his.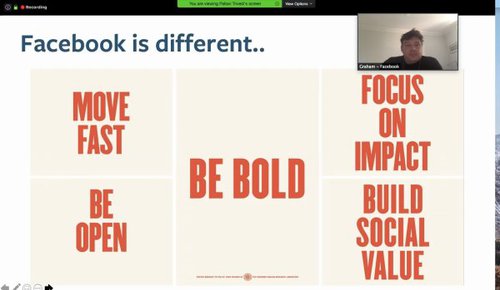 Graham talking through how Facebook is different as a company
Graham explained that his job was quite creative and often had the chance to run many exciting projects - he said that a lot of what they design are being used with your close friends and family which made me feel enlightened because they are creating things which can really impact lives.
A third speaker, a software engineering apprentice (Moshe), talked to us about how he got his place and emphasised his passion towards his job.
What did you learn about the apprenticeship programme?
Overall, the Facebook team gave us insight into their apprenticeship programme and explained to us how important having passion for software engineering was in order to be suitable for the apprenticeship.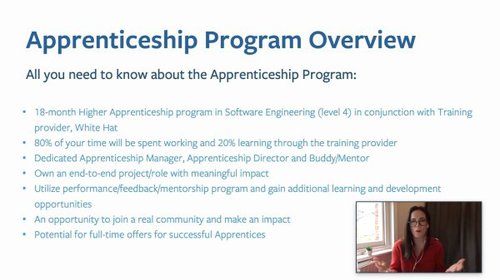 I learnt that lacking coding knowledge was not a barrier to applying for the apprenticeship - I am currently studying Computer Science A Level and only started learning to code with Python this year as I had not taken the subject previously, therefore programming was a slight worry for me.
However, hearing the talk from Moshe, I was inspired that if I had interests in being creative in software engineering I may be able to apply for this apprenticeship, when before I doubted my abilities. The session was only for one hour, but I thought it was very inspiring and I definitely will apply for this role next year.
Uptree thanks Catrina for taking the time to share her thoughts on the Facebook Application Masterclass and we wish her all the best in her future career.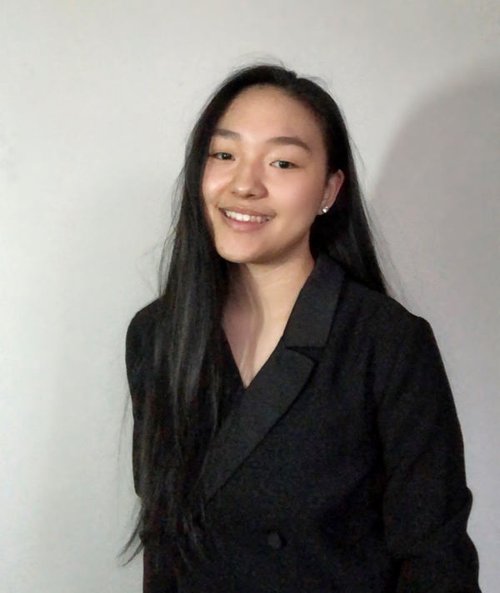 If you'd like to learn more about Facebook, you can visit their company page or follow them on LinkedIn or Twitter .
If you'd like to attend any online employability workshops during lockdown, run by Uptree, visit our Learning Hub .