Uptree and The Careers Education Standard (Scotland)
At Uptree we support students to build skills for life and work, helping them gain positive and sustained destinations after leaving education.
90% of final year or gap year students who took part in a UBS work experience event through Uptree have applied for an apprenticeship or higher education (June 2020)
Through our events , workshops and careers curriculum , we provide students with the knowledge and skills they need to thrive. We recognise that not all young people will progress down the same career path, so we ensure students are aware of the range of options available to them as they leave education and have the skills and knowledge to access these.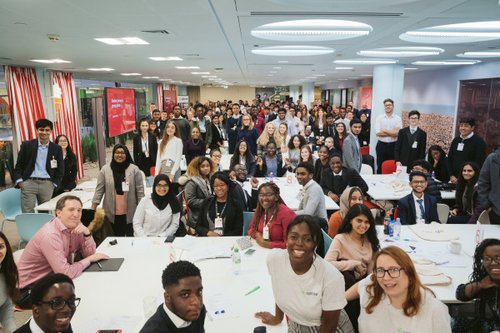 Students at a large-scale professional networking event, hosted at Google (Oct 2019)
Part of how we do this is through facilitating the majority of the senior phase 'I Can' statements of Scotland's Career Education Standard:
I can identify the skills I have learnt across the curriculum, how these relate to the world of work and can apply these appropriately during work placements and other work-related learning.
Our careers workshops help students highlight their skills and talents in interview practice, updating their CV and through writing a motivational statement. Our employer-led events encourage students to put their skills into practice during work-place projects and networking.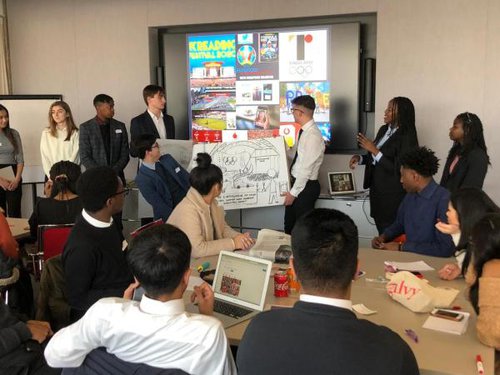 Students presenting their feedback after an creative industry brief at Ogilvy
I can confidently access and interpret the information I need to make well informed choices about my learning options, pathways and how these relate to possible future careers.
Our workshops and events give students an insight into careers pathways with a variety of companies. Our application masterclasses show clear steps to take on particular pathways in that organisation.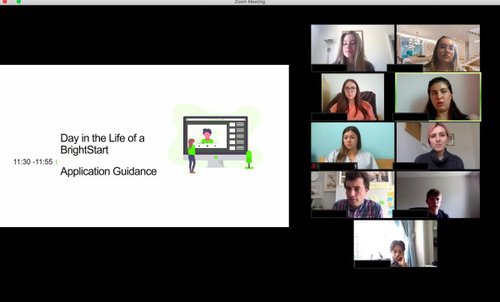 Students attending a Deloitte Application Masterclass (usually these take place at company offices but currently they are online)
I can share, evaluate and evidence my skills for learning, life and work to help me make successful future choices and changes.
Our workshops show students how to showcase their skills for work on LinkedIn, motivational statements and in the personal profile section of a CV. In our First Impressions workshop, we help students link their skills to different careers options, supporting them to make successful decisions.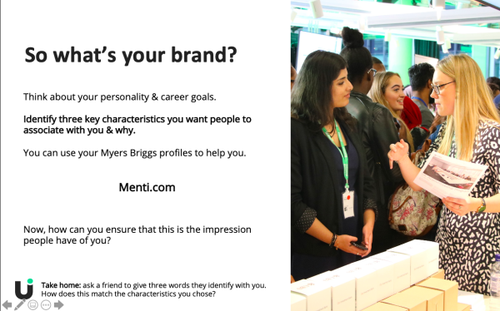 A section from the First Impression workshop to encourage students to make conscious work choices
I can draw appropriately on evidence from my skills profile to help me complete application forms, create CVs and when practising interview techniques.
Our workshops support students to build CVs and practise interviewing skills, showcasing their skills and experience. Our application masterclasses, demystify the application process and show students how to succeed at each stage, from application to interview.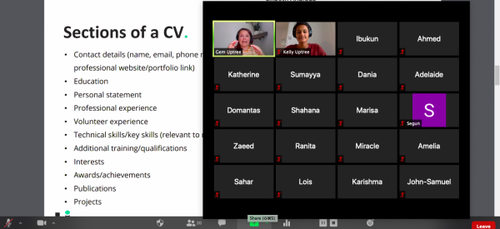 Students taking part in an online CV workshop with Uptree presenter, Gem Kennedy
I can describe all aspects of typical recruitment and selection processes and how to best prepare for and manage these.
Our Application Masterclasses explain recruitment processes for top companies and show students how to make their applications stand out.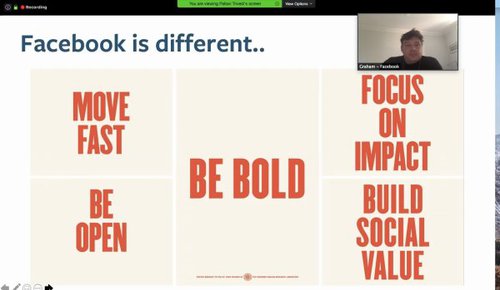 Graham from Facebook talking about how the company is different at an online Application Masterclass
I can consistently demonstrate the skills, attributes and behaviours needed to sustain and progress my career.
Our workshops and events help students develop the skills for work which are needed to sustain and progress their career.
I can identify and access support networks that will help me into a positive and sustained destination beyond school.
Uptree events help students start to build a strong professional network, helping them move towards a positive and sustained destination.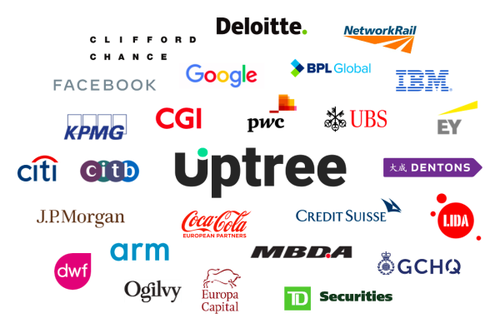 Good career guidance is critical for social mobility. It helps open students' eyes to careers they may not have considered - Sir John Holman, Good Career Guidance
Uptree is proud to be supporting students and teachers across the UK. If your school or college is interested in booking a free workshop, please get in touch with our Education Team: schools@uptree.co