What to expect in an online careers workshop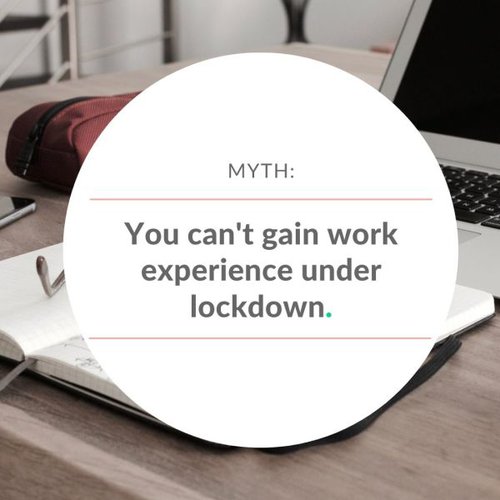 FACT: Uptree offers a range of online employability sessions to support students aged 16-20 during lockdown, such as work experiences, workshops and application masterclasses!
Workshop overview
Our online careers workshops give you insights into different industries and help you build your confidence and employability skills; all you need is a reliable internet connection to take part.
Visit our Learning Hub to see upcoming workshops that you can join. You can also view our recent #FuturesUP careers sessions with professionals from a range of industries.
What to expect during your workshop session
Once you log on, you will be in a virtual waiting room until the session starts so grab some paper to make notes and a drink. The session will be 60 minutes with an additional 15 minutes for questions & support at the end (optional).
You can decide whether to have your video playing or not so choose whatever makes you more comfortable. Please dress appropriately - no pyjamas!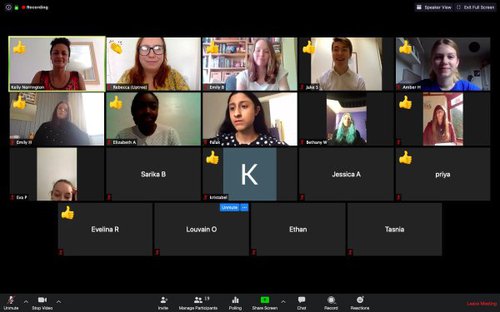 There will be other students from across the country all joining in so use this opportunity to learn from people you may never usually meet in this virtual classroom.
Workshop agenda
During the workshop, you will:
Discuss typical job roles and opportunities in the industry

Look at career and training paths available in the sector

Practise answering sector-specific interview questions and giving others feedback

Learn how to write a strong motivation statement and how to tailor these statements
Twice during the session, you will be put into small groups of 3-5 students where you will be able to enjoy discussing questions in more depth. This is a great way to build your confidence in sharing your view with new people and to hear different views/opinions.
Your microphone will be muted during the main part of the session but you can use the chat function, emojis and polls to still take part and share your opinion.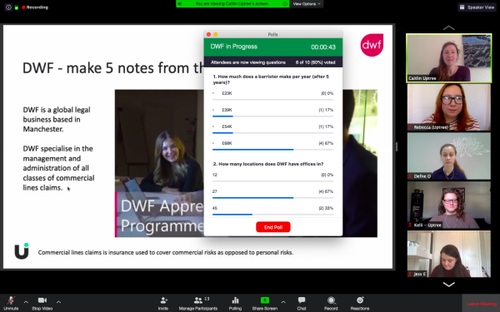 Students taking part in a poll on DWF during a law workshop
Feedback from students who have already attended
I liked the fact we were able to discuss questions in smaller groups as this felt more comfortable. I also feel I have gained a lot of insight that I can use in my CV which is something I've previously struggled with.
It gave a really good insight into the career and it was a good opportunity to speak to like-minded people.
The information about the STAR interview technique was great, and I feel a lot more confident about using it in the future. I had heard of it before, but it was well explained here and the opportunity to try it out was helpful. It was also nice that the two speakers/people running the session stayed on the call a bit longer to answer any questions.
If you would like to join future careers workshops, please sign up via our Learning Hub . You can also view upcoming online work experiences and application masterclasses on the events page on your Uptree account.