Ambassador view: law applications
Hello everyone, my name is Abigail Wonga and I'm a current gap year student working as a Clerking Assistant at a Barristers' Chambers. I aspire to study an undergraduate degree in either an LLB Law or LLB Law with Joint Honours, and I'm delighted to have received offers from universities to do this.
With the legal field being oversaturated and heavily competitive, I will be taking you through the application process that law firms follow, how to secure work experience (if you're in Year 12/13 or Scottish Highers) and providing an overview of internship/vacation schemes for if you decide to study Law after A-Levels/Highers. Just because it's competitive, doesn't mean that it's unachievable.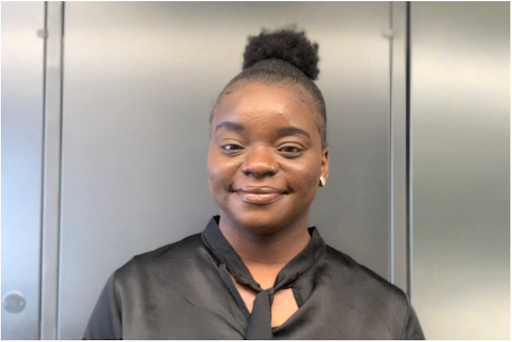 Applications, applications, applications and even more applications.
Despite the process being straightforward, I know first-hand that they can be overwhelming, especially when you don't know what you're doing. The application process can go like this: submitting your online application, completing any competency-based tests, telephone interview, virtual interview and, finally, an assessment centre. Then the cycle repeats if you are unsuccessful, but that's totally normal. Rejection is redirection.
However, when you do find yourself in that repetitive cycle of applications, the best thing you can do to ensure that you secure that work experience, internship and possibly vacation scheme is to ask for feedback.
I can admit that asking for feedback can be difficult when you're someone who might refrain from asking for help, but asking for help is totally normal. You shouldn't have to feel bad for doing something that will benefit your future.
Engaging in a 15 minute feedback call with your interviewer, mentor, etc. or asking questions during an interview can help you to understand what went well and what could've been better. This shows how determined, dedicated and driven you are to ensure that you perform to the best of your abilities.
If there's one thing that I've learned so far during my time as a gap year student and working in the legal field, it's that everyone is willing to help. You just have to ask enough!
Here are some tips/advice I can give to you from one applicant to another to help you stand out and attain that experience and internship, and it doesn't just apply to aspiring solicitors/barristers!
Experience, experience and experience!
There is a great misconception that to apply for an internship/work experience in law, technology, finance, consulting etc., you must have prior experience in that sector. Any experience is valid experience and the skills you develop can be transferable.
For example, I used to work in retail part-time for more than a year during my A-Levels. The skills I've learned from working in a fast-paced environment, such as team work, communication and problem solving, allowed me to showcase those skills in the application and interview stage. This ultimately led to me receiving an offer from finance companies and law firms. These experiences can be written on your CV and tailored to the specific role that you want.
Practice makes perfect
When you do find yourself taking part in competency-based tests or at the interview stage of the application, it's so important that you take a bit of time out of your day to practice. Despite not knowing the kind of questions the test provider or the interviewer could give you, it's much better for you to be prepared in knowing how you are able to manage your time, what it is about the company that interests you, and what it is about this role that you see yourself developing in.
I'd suggest using Cappfinity, a platform for aptitude tests. The main areas covered by Cappfinity are verbal skills, numerical skills, and critical thinking skills. You'll face three question types: multiple choice (where you'll pick the right answer), ranked questions (where you'll place several items in the right order), and free-form questions (where you'll be required to perform a calculation and input your answer into a text box).
Searching 'strengths-based practice tests' on the internet can bring up good results too.
Expanding your network
Let it be known that LinkedIn is your best friend when it comes to applications. This is because you can request to connect with people who have either completed an internship or are working in the sector you want to specialise in, and you can ask them for advice on how to draft an application.
Don't be like me and create a LinkedIn account late into the year. Obviously, it's better late than never, but you don't want to miss any deadlines and a helping hand. LinkedIn is essential to getting yourself out there, building your professional network and optimising your skills.
If you are in need of forming connections, you can always request to connect with me on LinkedIn - Abigail Wonga.
Finally, my last tip would be to keep on applying. If you get rejected, keep on applying. If you don't hear anything back from the employer (which at times you won't), keep on applying. Remember that rejection is redirection and you'll always find yourself getting where you need to be.
Life is a marathon, not a sprint. That's why I suggest connecting with people and collating feedback so that you know what to do well next time. Everything will work out during your application season. Remember to be positive!
Applications at this stage in your life are pivotal towards your student life and early career development. Should you have any troubles with applications, please take these tips into consideration and as guidance.
Best of luck!
Huge thanks to Abigail for sharing her tips on applications. Check out our Careers Learning Platform for bite-size courses to further support your career development.