Careers education: raising awareness of routes into the legal profession
Joanna Hughes, Director of Joanna Hughes Solicitor Apprenticeships and Member of the City of London Law Society Training Committee, discusses the importance of careers education in raising awareness of career routes into the legal profession.
A visit to I. Stephanie Boyce's former school
In January, I had the pleasure of accompanying I. Stephanie Boyce, Immediate Past President of the Law Society of England and Wales, to her old school in Aylesbury to raise awareness of careers amongst students.
Stephanie Boyce wanted to make a difference, to use the remarkable platform of presidency to create opportunity for all talent, regardless of background.
Stephanie's mission is to ensure the legal profession is accessible to all and, during the visit to her former school said: "part of that mission is to raise awareness of the solicitor apprenticeship route into the profession, which provides an alternative to the traditional qualification route enabling aspiring solicitors to 'earn as they learn'."
Stephanie says: "I was a member of the Socio-Economic Diversity Taskforce, which concluded in November last year. The Taskforce was commissioned to address a lack of socio-economic diversity at senior levels in the financial and professional services (FPS), but I was struck by some of the contents of the Appendix in the 'Breaking the Class Barrier Recommendations Report' on how careers education and degree apprenticeships can ensure the widest possible talent pools of the best people are available in order for that progression to happen at senior levels".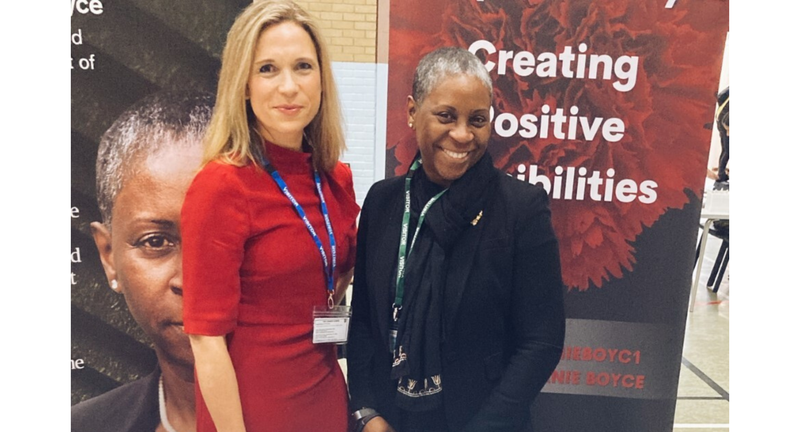 Resources in state schools are stretched, and the best way for employers to engage with schools on careers education is usually through organisations such as Uptree. But when I was asked to join Stephanie at her old school, based in Aylesbury, to talk about the variety of routes into the legal profession at their annual Careers Fair on 24 January, I agreed because no one else was attending to speak about the law. I knew that Stephanie's profile would mean that her visit would have an impact beyond the school we visited.
Stephanie and I attended the careers fair together and found that, while the students had good knowledge about the legal profession, no one we spoke to was aware of degree-level solicitor apprenticeships.
As discussed by Hamza Yusuf, a former Uptree student and solicitor apprentice, often young people have little to no knowledge of the other routes available to them.
The students at Stephanie's former school were so interested to hear more about solicitor apprenticeships that Stephanie is returning to the school on the first day of National Apprenticeship Week, together with a solicitor apprentice from a City law firm and others, to continue the conversation.
A lack of careers education is an issue that Uptree's CEO Tamsin Dewhurst is all too familiar with, having worked previously as a teacher in a low-income community. Hugely disheartened by how many students would walk away with top exam grades but end up in under-skilled jobs due to a lack of knowledge and access, Tamsin founded Uptree to improve careers education and connect young people with employers. It's through these connections that employers can raise awareness of their Early Careers opportunities, including apprenticeships.
Recommendations in the Socio Economic Diversity 'Breaking the Class Barrier Recommendations Report'
So, what are the recommendations in the Breaking the Class Barrier Recommendations Report?
During the industry consultations as part of the working groups for the Taskforce, it was discussed how better outreach in schools could support the increase of socio-economic diversity in the financial and professional services.
CEOs of outreach organisations, academics, and other participants in our industry consultation emphasised the need to have more interaction of UK financial and professional services with schools in the form of outreach, the aim being to educate school pupils about financial and professional services careers, as well as recruiting from Year 13 talent pools, including for degree apprenticeships.
For effective outreach, participants in the consultation spoke about meeting role models from UK financial and professional services organisations. This would include individuals from non-professional backgrounds as well as FPS organisations that are finding ways to open their doors to students from lower socio-economic backgrounds through events such as work experience days and ensure teachers and students have access to industry market information on careers.
It was noted that support for parents is needed also to educate them about routes into financial and professional services, including degree apprenticeships, and about how these routes allow parity of progression at employer organisations.
Some of the recommendations were quite bold: with suggestions that the Government should demand more rigorous employer outreach in schools and colleges in areas with higher rates of income inequality, and make it clearer for schools and employers who are the top outreach providers for careers in the financial and professional services sectors.
Uptree's input on careers education into the Taskforce consultation
In my role as a Working Group member of the Taskforce, I interviewed Uptree's Founder CEO, Tamsin Dewhurst, as part of the Taskforce consultation about the best ways to ensure that all young people have access to in-scope careers exposure and skills necessary to apply and succeed in our future roles.
Tamsin explained that not enough measurable goals are given to schools in relation to careers. For example, the Gatsby Benchmarks are not driven by outcomes of student destination data, they are driven by activity; a thought-through approach tailored to students' needs and backgrounds is needed.
"At Uptree we're able to track students who go on to secure Early Careers opportunities, with many doing so after they've attended work experience events with that company. It shows us how much of an impact those events are having, especially when looking at the students' self-reported changes in relation to improved knowledge and confidence after the events.", adds Tamsin.
Time needs to be carved out of the curriculum to ensure all students have access to this kind of support. Some students in some schools get a lot more support from employers than others and its very ad-hoc – this isn't true leveling up.
All schools should have access to information on Early Careers opportunities, some schools will need more support to access those roles, and students need more support to feel confident to apply and succeed down the line.
What next?
The mission of Stephanie is to ensure that the legal profession is accessible to all. She says, of her visit to her former school in National Apprenticeship Week, that the investment of her time is most certainly worth it. Stephanie is exactly the kind of role model that the Taskforce had in mind when drafting the Report recommendations.
I will continue to advocate about the solicitor apprenticeship route into the profession. The Universities College Admissions Services (UCAS) has made statements about UCAS users wanting more information about apprenticeships with plans announced in February 2023 to support this, and The Careers & Enterprise Company noted in December 2021 that "more work needs to be done to convert interest in apprenticeships to uptake."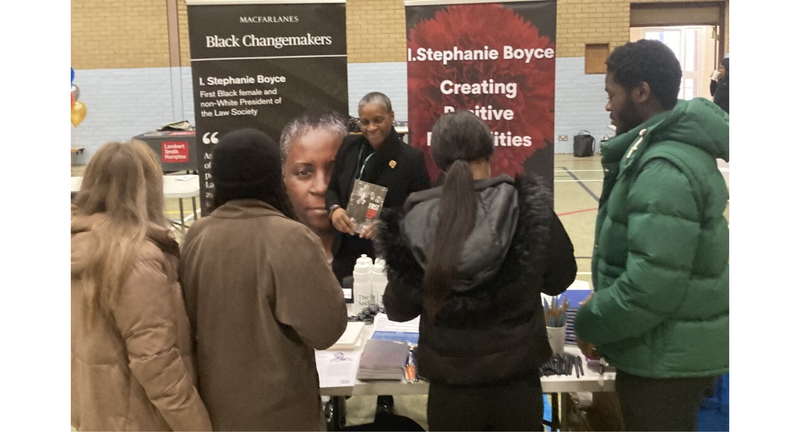 Uptree will continue to support employers with raising awareness of careers amongst younger generations because, as stated in the recently updated Department for Education Careers Guidance : "high quality careers education and guidance in school or college is critical to young people's futures".
We'd like to say a huge thanks to Joanna Hughes and I. Stephanie Boyce for their insights on this blog.
Uptree is working with a number of law firms so if you'd like to find out more about Uptree and how we're supporting their social mobility and Early Careers programmes, please contact our CEO Tamsin (tamsin@uptree.co).
You can also read the thoughts of solicitor apprentice Hamza Islam on the importance of careers education in his November 2022 blog.