Our mission and values at Uptree
Our story: Why we do what we do?
Uptree was created to help talented young people connect with the world of work during their time at school. Our founder Tamsin Dewhurst, an ex-teacher herself, saw an opportunity to help students feel more aspirational about their options, and give them the confidence and connections they need to succeed in their chosen careers.
I experienced my students achieving good grades at A Levels and university but lacking opportunities to build industry awareness and a professional network. Teachers were often too busy to be able to support students outside of direct subjects and as a result young people were leaving my school without exposure to careers and opportunities.
Tamsin believed that if there was a way to introduce young people to companies before they leave education then everyone would benefit. Young people would gain first-hand industry led careers advice, build a network and gain confidence through employability skills. Companies would raise awareness of their brands, improve access to entry level pathways and hire the very best talent.
At Uptree our purpose is to reach and inspire future talent and empower communities.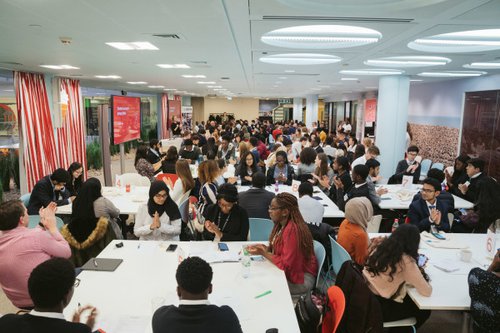 Our mission: How do we deliver our purpose?
Getting access to the right careers information. To have the confidence to apply to a job and be interested in different careers, young people need to know what is out there and how to find it. Teachers are busy and it can be hard to know what information to use to support students. We provide up-to-date labour market information from industry leaders and top UK employers. Our team of experienced educators adapt the content to make sure it translates to young people in school, empowering students and teachers.
Building professional connections. Talking to professionals and meeting peers from outside of a school setting, in a professional environment, helps to raise awareness of careers and the aspirations of young people. We want to inspire young people to aim higher.
Our mission is to put industry at the forefront of careers education and to provide young people in every school with opportunities to interact with multiple professionals.

Our vision is to help 1 million students connect to professional experience before leaving education.
---
Our Values: how we focus on what matters?
Our social mission is at the heart of everything we do and this makes Uptree a really inspiring and rewarding place to work. We have 6 values that are central to everything we do and help us to focus on what matters:
Inclusivity at our core. It is our aim to build a student network that is representative of the communities in which we work and live. We focus our outreach on schools catering to high numbers of young people from low-income communities to help level the playing field.
Build an empowering community. Enabling students, schools and partners to build their own skills, resources and opportunities so they know how to succeed themselves for the future of work.
Learning and sharing. We are committed to investing in our team's professional development to make sure that we are becoming experts in our field and sharing our learnt knowledge across our communities.
Impact at scale. We want young people everywhere to be inspired by their futures and to reach their full potential.
Young people first. We have a lot of stakeholders at Uptree from our employers to school partners. When considering new products or situations, we put our students' needs first.
Humans before technology. Building our technology platform helps us to scale and therefore helps us to have a greater impact. However, understanding our students', schools' and partners' needs through strong partnerships comes before building our technology solutions.
Our purpose, mission and values are really important to all of our work at Uptree! If you're interested in finding out more about the work we are doing to empower communities with the world of work, please don't hesitate to get in touch with us here.