Student Success Story: Software development with Fujitsu
Rebekah has recently secured a Degree apprenticeship with Fujitsu, a multinational IT company who in 2018 were ranked the fourth-largest IT services provider in the world.
She will be working - and learning - as a software developer.
According to a recent Tech Nation report , only 19% of the technology workforce are women. Such disparity reaffirms the incorrect perception that 'technology' is just for boys.
However, success stories like Rebekah's pave the road for more diversity within this, at present, male dominated industry.
Rebekah has shared with us her journey to becoming an apprentice with Fujitsu - particularly highlighting the importance of a clear application process - and in the absence of this, some of the adversities she faced.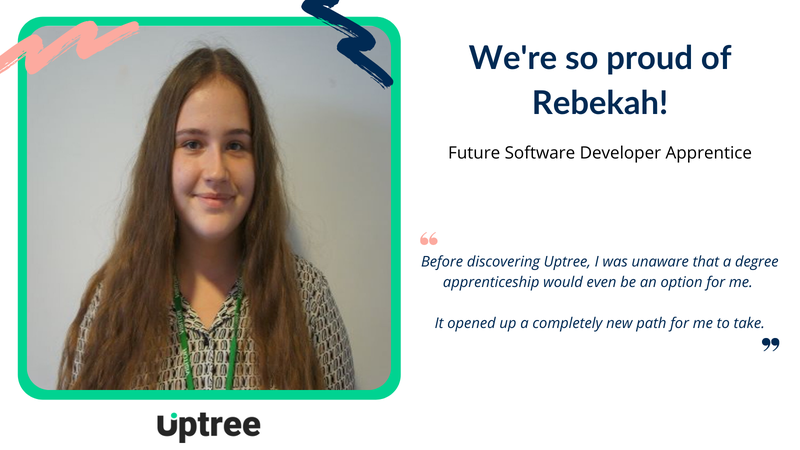 When did you join Uptree, how did you hear about us and what events did you go to?
I first heard of Uptree in late 2019 when an external speaker delivered a presentation at my school - I signed up shortly after the event!
I took a few masterclasses, including one with GCHQ, and that's where I learned about degree apprenticeships.
How did Uptree help you on your journey to getting your degree-apprenticeship?
Before discovering Uptree, I was unaware that a degree apprenticeship would even be an option for me.
It opened up a completely new path for me to take.
I also had the opportunity to complete masterclasses with several different companies through Uptree. This helped build my confidence when applying to different roles.
What made you decide to take the apprenticeship route instead of uni?
I chose a degree apprenticeship over university because I felt that working - alongside learning - would help keep the learning interesting. I also know that I would benefit from having a few years work experience when I leave university.
Tell us about your role!
My role is as a software developer apprentice for Fujitsu. I will spend four days working in the office and one day studying at uni each week.
Other apprenticeships I had applied often held online assessments, however as I had not begun studying my chosen course yet I found this process challenging. Consequently I was unsuccessful in some of these assessments.
Thankfully, Fujitsu's application process was much clearer and as a result, I managed to secure my role with them!
Do you have any advice for other students?
My advice for students interested in a similar career path would be to research different companies' courses to see which uni you would be placed at if you were successful, as moving out and the location of the university could be an important factor in whether you would want to accept the role or not.