Student View: An online work experience day with Clifford Chance
At the end of April, Clifford Chance hosted their second work experience day this year for 50 specially selected Uptree students interested in a career in law. When Serina, a Year 12 student from Hertfordshire, heard about this law event, she quickly put in an application through her Uptree account.
Here, Serina shares her experience attending the online session.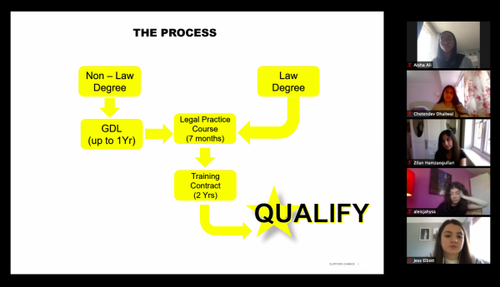 Clifford Chance explain the legal qualification process
How did you prepare for the event?
I prepared a short list of questions and ensured that I researched the law firm. This was to make sure that I knew what was going on and how best to participate.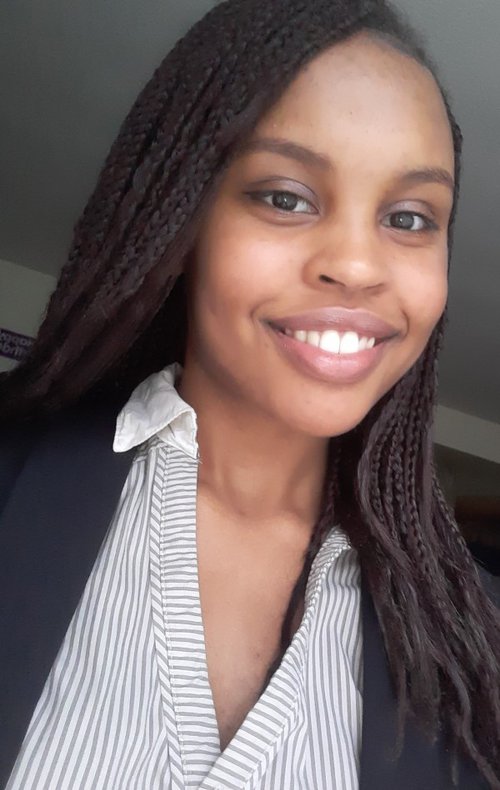 Serina is currently studying politics, English Literature and history at Sixth Form
I was really lucky and face no technical difficulties. The people hosting the event from both Uptree and Clifford Chance were very informative as well as able to show presentations and information needed.
What was the event like for you?
We were introduced to the people hosting and then went straight into learning about litigation and applying this to a case study. I was able to work with other people through breakout rooms on the case and learnt so much about civil litigation. This went on for a good amount of time then we learnt about the firm in general.
There was a lot of detail about the application and recruitment process as well as tips to get into Clifford Chance.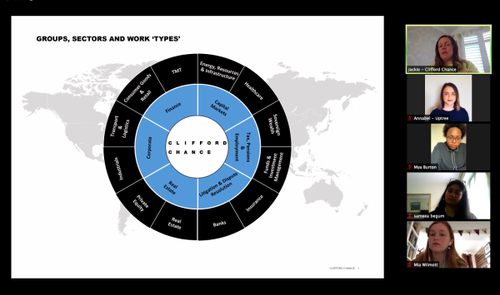 The Clifford Chance hosts ended by talking about their PRIME work experience scheme that we can enter in order to gain more insight, which we can apply to for next year. It was a very thorough work experience with a lot of information.
I was inspired by the other students partaking as well as the people currently employed who really gave me a sense of how exciting a career in law is. What also inspired me was the amount of opportunities that were offered, too.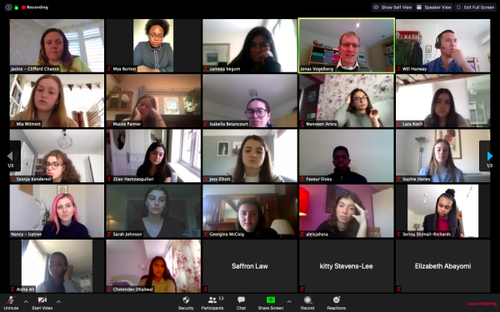 Being an online event, future law students from across the country were able to take part
Do you have any advice for other students thinking of a career in law?
My advice would be to start research into areas of laws you think you might be, or are currently, interested in. Any work experience counts, even if it has nothing to do with law, as long as you take away key skills that you can then talk about in applications in the future.
If you complete work experience or interviews for law-related events, ask a lot of questions. This creates a good impression of you and makes you memorable.
If you are thinking of a career in law then think about what university offers the best course and if you want to be a barrister or solicitor. Things like that really help you in the long run.
Uptree thanks Serina for sharing her experience of the Clifford Chance work experience and we wish her all the best in her future law aspirations.