Ensuring Your School Leavers Are Work Ready
There's a lot that goes into making sure your school leavers are ready for the workplace.
They need to be:
resilient
able to communicate effectively
understand the industry they want to enter.
It's essential for students to develop the self-confidence to know that they're ready to kick-start their careers.
Getting students work-ready can seem challenging due to the ongoing demands of the school year. There's also a limit to how well students can prepare in the classroom. Learning in a professional setting is not to be underestimated but that's where Uptree comes in.
Through our connections with leading employers, Uptree can help create a bridge between your school and the world of work.
All our offerings at Uptree are designed to supplement your existing careers education and help your students develop the skills and attributes they will need in the workplace.
So, what do your students need to be ready for their future after school and how can Uptree help?
Your students need to:
learn essential workplace skills
gain industry knowledge
hone their existing transferable skills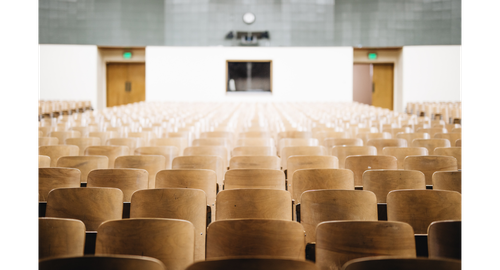 Essential skills prepare students for the realities of work
It can be difficult for students to picture the demands and expectations of a role before starting. Understanding the technical, organisational, and professional skills they'll need can be a challenge. Relating school assessments and activities to their workplace counterparts is a great way to engage your students in class. When students can see the relevance of an activity beyond school, it's significantly more engaging.
Research from Education and Employers found an increase in grades as a result of this!
Today's students are also increasingly entering hybrid workplaces, which requires additional skills. Where possible, exposing your students to both in-person and online working will support them in learning how to navigate a hybrid workplace after school. Workplace skills can also be developed through Uptree work experience days and application masterclasses.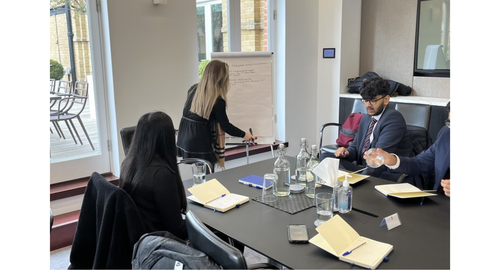 These sessions are offered virtually and in-person to prepare students for the emergence of hybrid workplaces. During our sessions, students get to network with professionals and take part in activities designed to expose them to real workplace scenarios. By tangibly engaging with the world of work and testing themselves in a real-world setting, students are better able to gain confidence.
Uptree's online courses are a brilliant way for students to understand the work-specific skills that they will need to develop. To support your students, we offer a wide range of courses that teach students about presenting themselves in interviews, their workplace rights, and how to network.
At Uptree, we also offer support calls for students when writing applications or going through the recruitment process. These can be useful for students who need some extra advice or a new perspective on their application.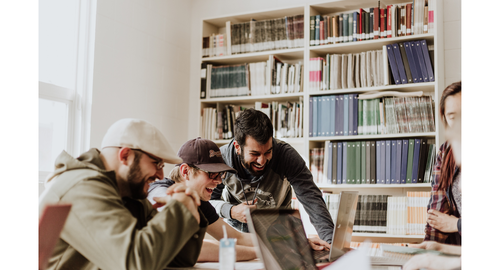 Relevant industry knowledge is beneficial for both students and families
Gaining industry knowledge can seem daunting and inaccessible for students. We find that it's easier for students to bridge this gap if they can access up to date information directly from working professionals. All our services at Uptree are informed by our relationships with our employer partners who provide insights into a range of sectors such as insurance, finance, technology, media, and law.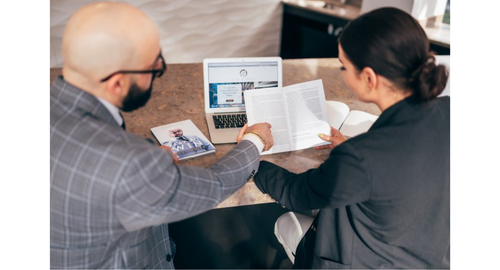 It's also important to engage parents and carers so they're informed about the various career options available to their children. In a rapidly changing employment landscape, there are options available for young people that their parents might not have considered.
Feedback from our Student Ambassadors indicates that many young people feel familial pressure to go to university or to enter traditional professions, when they might not see this as their best option. To best ensure that your school leavers are work-ready, it's essential to support your whole school community to gain the same industry knowledge as your students.
Why not get started by inviting parents to attend our FuturesUP parents' and carers' session, taking place on 7 July? The session will offer parents information on the variety of pathways that their children can take after school.
By honing their existing transferable skills, your students will be work-ready:
Your students will already have many of the skills that they will require in the workplace. They just may not see the relationship between their existing skills and their future uses. For example, a student who has the ability to mediate conflict between friends may not realise the potential that skill has in the workplace. That kind of emotional intelligence is an essential skill that will prepare them well for leadership roles later in life.
Transferable skills are often assets that make people stand out from the crowd, sometimes more than academic achievement.
Talking to your students about the skills you see them exhibiting and highlighting how they are relevant at work is a great place to start. For example, every talk a student gives prepares them for public speaking – but it also prepares them to answer questions in the workplace and to convey their ideas effectively. Students can also better understand their existing skills by doing online courses with Uptree.
Our lessons on knowing yourself, workplace etiquette and leadership could all be great ways for your students to realise how many skills they already have. Participating in work experience days is also a great way to trial those skills in real life with working professionals and student peers.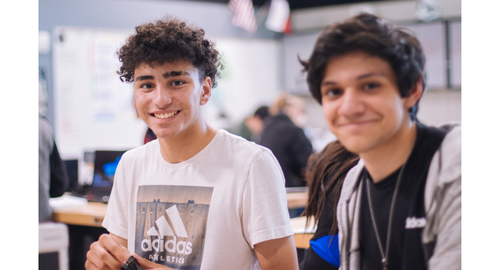 Empowering your students
The key thing a student can do to become ready for work is to take their learning and development into their own hands. By supporting them in school and encouraging them to step out of their comfort zone – your students will be able to learn so much about work and themselves.
Through work experience and pushing themselves to develop their employability skills, students are able to prepare themselves for the challenges that they will face in the workplace.
Encourage your students to register for a free Uptree account here. Through our services, they can take control of their development and be supported in their next steps.
Find out how careers education can improve academic outcomes