Student success: Gabriella's story
Gabriella is an incoming Paralegal Apprentice for Norton Rose Fulbright (NRF) and a current school-leaver who has finished A-Level English Literature, English Language, Politics and BTEC Applied Law.
Tell us about your Uptree journey
I joined Uptree at the start of sixth form in September 2020. I heard about Uptree from the head of my sixth form and my head of my year. It intrigued me how Uptree can provide in-person and online work experiences. I went to the in-person NRF Law work experience in the Newcastle office and their application masterclass.
How has Uptree helped you?
Uptree has not only helped me gain my first in-person law work experience but also helped me gain a better understanding of how apprenticeships work. Initially, I dreamt of studying Law in university (as per my aspirations to become Elle Woods from Legally Blonde). However, Uptree's work experience events with NRF led me to become fascinated in researching how commercial law is so crucial in the world of business, particularly how legal technology is so intrinsic to providing an excellent client service. The Uptree events I attended have shaped my decisions and made me realise that apprenticeships would build a great foundation for my career. Plus, you earn while you learn! I am more than grateful for Uptree's guidance: just taking those small steps can lead to such a big victory.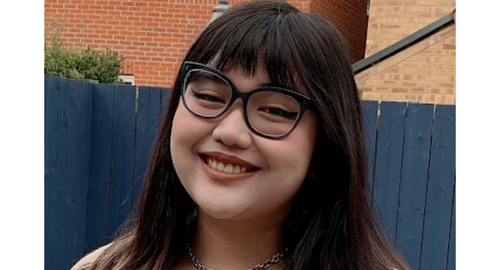 Why did you apply for this role?
My deep-rooted interest in providing accessible services and consultancy to clients heightened when I learnt about the NRF Transform team. The team abides by three influential principles: people, process and technology and I am thrilled to take this journey into learning more about using Artificial Intelligence to adapt and solve businesses and legal problems in the workplace. I feel that working full-time with the brightest commercial minds in NRF will underpin my legal career more than what a university could offer.
As an NRF Paralegal Apprentice, I will complete Level 3 Paralegal studies with BPP. I will work 4 days a week in the Newcastle office and learn once a week online. As a new Paralegal, I will be trained with not only the knowledge to become a professional Paralegal but also will be collaborating alongside NRF Transform and partake in administrative work such as legal research, jurisdictional surveys, reviewing contracts, and doing due diligence.
Did you experience any setbacks?
Before completing work experience with NRF and Uptree, I applied for a Solicitor Apprenticeship and a Paralegal Apprenticeship in two separate law firms in Newcastle. I only passed the first stage of these applications. I found it valuable to embrace how I was feeling and to take some time out as I was feeling demotivated. I read positive affirmations to help change my mindset. A specific quote helped me regain my confidence: "Trust these small steps you're taking. Even when it isn't glamorous. Even when nobody else is watching. Even when all you have is your faith and self-belief guiding you forward. Trust yourself. Trust your path. And trust that your hard work is paying off in ways you can't see." It is so important to focus on your strengths, and to try to remain positive. Rejections have hurt me but it is also crucial to remember that I was not alone in this journey and other people have experienced this before me and will after me. Remember that if an employer rejects you, it is not you. Firms will need your brilliance no matter what, and you will see the right one for you when your values and work ethic align with one another.
Definitely keep your options open. We're young people who are still trying to figure the right things out for ourselves and that takes a small step of courage and hope to just keep on going. These can vary from researching job vacancies, getting work experience, growing your LinkedIn network, sending a thank you email to employers who rejected you and taking in feedback and criticism to apply this in future applications. Identify gaps, build a personal development plan and definitely ask for help from professionals and apprentices as their advice is invaluable. Asking for help was so beneficial when applying for this apprenticeship.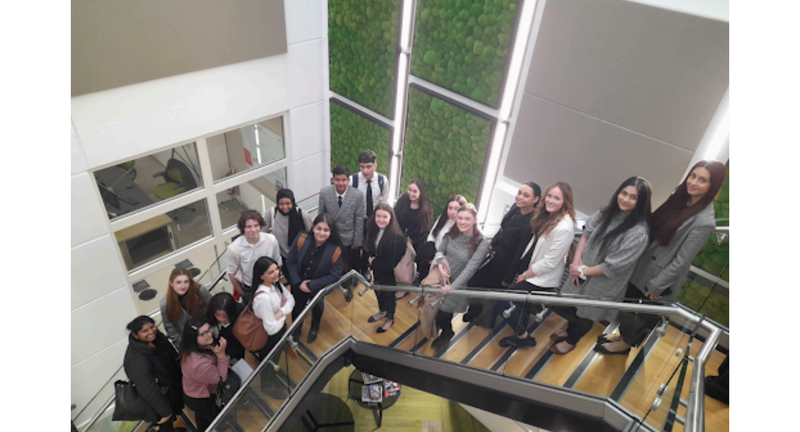 Do you have any advice for students in a similar situation to you who are also interested in a similar career path?
Trusting yourself, allowing yourself to get out of your comfort zone and being optimistic will help you land the role. It is sometimes this tiny amount of courage and a spark of hope and optimism that will help you gain a head-start towards your future career. Focus on your strengths and work on your weaknesses if you can, ask for help - whether it's asking your family to practice interview skills with you or reaching out to apprentices or recruitment teams with enquiries about an application or work experience opportunities. Research is always key. Follow your passions and always read books. These are good practices into learning the depths of who you truly are, what you love and what may inspire your future career. Believe in yourself and good things will follow through.
A big thank you to Gabriella for sharing her story.
Visit the Uptree platform to find out what opportunities and events are available.