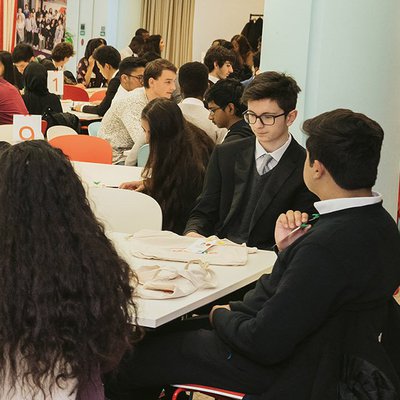 Online Events Accessibility Policy
Online Events Accessibility Policy
Introduction
Uptree is committed to encouraging equality, diversity, accessibility and inclusion, and eliminating unlawful discrimination. We make this commitment across all areas of our business, including:
Our staff, whether full or part time, permanent or temporary
Students attending Uptree-hosted events, whether in person or online; in school, in the offices of one of our corporate partners, or in public
Our partner schools, their staff, and students of all ages
Our corporate partners and any customer or supplier of the business
The aim is for our company to be truly representative of all sections of society and our clients, and for everyone who comes into contact with Uptree to feel respected and happy to work with us.
The organisation - in providing services both online and in person - is also committed against unlawful discrimination of clients or the public.
Review Schedule
Uptree is aware that accessibility is a learning process, and is committed to constantly evolving our processes and policies to ensure maximum possible accessibility for students, teachers, partners, and staff. This document and all policies contained within are scheduled for review on a six-monthly basis.
Purpose
This policy's purpose is to:
Explain Uptree's approach to accessibility with regard to online workshops, application masterclasses, and work experience days
Explain what we can and do offer those with accessibility needs
Explain what we are currently unable to offer - and in those cases explain why and offer possible alternatives
Provide links to further information with regard to third party platforms we use
Strategies for accessibility:
Offer all accessibility information upfront and publicly to interested attendees, in the form of this document, which will be linked to from our event registration pages and invitations. Any follow-up questions attendees have can be addressed to schools@uptree.co and will be answered promptly.
Make it possible for attendees to (anonymously or with their name and RSVP attached) request that specific access needs be met.
Publish the format of the event (e.g. workshop with interactive elements vs a panel discussion) and how long it will run for, allowing attendees to plan around their need to take breaks, arrive late, leave early, and so on.

This will be communicated via our Event pages
We aim to provide as much detail as possible ahead of the event but in the case particularly of employer events we may not have access to full agendas

When requested, where possible, provide any written or visual materials ahead of time to give attendees an idea of what to expect and the ability to plan in advance. Note this may not always be possible when events are run by third parties.
Use plain language in our invitations and event details, and remain mindful of jargon, slang, and assumed knowledge in order to be inclusive of all attendees.
Offer the option for attendees to dial-in by phone and participate without a computer or internet.

Full details for joining by internet and phone are provided by email ahead of the event. If attendees require this information to be communicated by another method, they can contact our Schools team by phone on 07395 795524.

Where possible, refrain from using content likely to affect those with sensory issues

This would include video content with strobe effects or excessively loud volume
If such content is to be used, warnings will be given with regard to volume etc
We will also pass on this request to partners with regard to their content

When delivering events via Zoom (which covers most events hosted by Uptree), we can offer, via their platform:

Automated closed captioning during meetings
Automatic transcripts
Keyboard accessibility
Screen reader support
Things we can't do at the moment :
Given the small size of our team and limited budget, we are currently unable to provide individual assistance in person during events. This would include:

BSL or other sign language provision
Classroom assistant-style support for students in need of one-on-one support
However, if an attendee would like to have someone join them in the session (whether this is a family member, care worker, or teacher) to provide any of this support, we would be more than happy to accommodate this. All a student, school, or carer needs to do is let us know when signing up that this will be required, and we can add an extra invitation slot to the event.
Unfortunately, we cannot offer training sessions with attendees or their supporters prior to the event on how to use the platform(s) the event will be hosted on.
However, information regarding the use of the Zoom platform can be found in detailed documentation linked below. Zoom's own accessibility information can also be found using the below links.
Note: In the case of employer or other third party events which do not use the Zoom platform, we can request documentation of this kind from the partner in question ahead of the event, with specific regard to their chosen platform.
Further information
If you have any questions at all about any of the topics covered in this document, please get in touch with our team at info@uptree.co .
Schools and students please call: 07395 795524
Employers and sales enquiries please call: 07894 081221
All Uptree policy documents are available on our website here.
Uptree Limited
131 Finsbury Pavement, London, EC2A 1NT
Company number 09641286
Last Updated Feb 2023