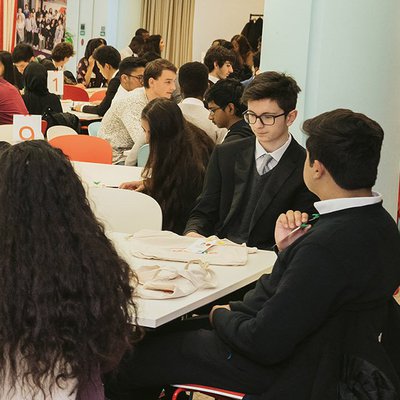 Safeguarding Policy: Online Events
Safeguarding Policy: Online Events

Introduction
Uptree Limited ("We") are committed to protecting the young people who use our services. The purpose of this policy is to provide users, teachers, parents, and Uptree staff with the overarching principles that guide our approach to child protection in general, and our approach to child protection when using online video conferencing platforms in general.
Note: this policy should be used in conjunction with the Uptree Online Events Privacy Policy, available separately.
Workshop Format and Content
Uptree uses the Zoom platform to provide our online careers workshops. Zoom is a widely used video conferencing platform, and a service that Uptree pays for. In the case of online workshops and "Application Masterclasses", students are invited via email to sign into Zoom meetings and utilise live video and audio to communicate directly with Uptree's training team and, in certain sessions, with representatives of Uptree's partner businesses. Online workshops will generally be attended by a limited number of students, selected and prioritised by Uptree's schools team in partnership with our network of schools and colleges around the UK.
In these sessions, any of the following things may happen:
Members of the Uptree team ("the Host/s") will talk through a presentation covering: background on a certain industry or business; training on interview technique; training on preparing a personal statement; details and training on how students can apply to attend work experience days; training on how to apply for apprenticeship and internship positions at one of our partner companies and other content geared towards developing the employability skills of students aged 16-19
Students will be encouraged to ask questions via a live chat app, in which their messages will be visible to the rest of the attendees. They will also be able to send private messages to the Host/s
Students will also be able to talk using their computer's microphone, both to the host and to all other students attending.
Students' video and audio feeds will be visible to the rest of the workshop attendees unless audio is muted (which can be controlled by the student or the host) or their video is stopped (which can be controlled by the student).
Groups of students will be separated into virtual "breakout rooms" for discussion around a certain topic. Within these groups they will be able to communicate with each other via video and text chat. Hosts are also able to enter and leave these groups, as well as call students back to the main session at any time.
Hosts may share their screen with the workshop's attendees at any time in order to show presentations or video content. They can also send files (e.g. presentation slides or activity sheets) via the live chat function, which students can open on their computers.
Zoom's online "polling" feature will be used to ask multiple choice questions to the group to gauge their thoughts on a range of subjects. The responses are anonymised and this data is not recorded anywhere by Uptree.
Safeguarding Measures
The following measures will be used in all sessions to ensure that young people are protected while taking part in our workshops:
First and foremost, abusive or inappropriate behaviour by students, staff, or any other attendee to the workshop will not be tolerated and the offending person will be immediately removed from the session and potentially referred to the appropriate authorities. (See Behaviour section below for more details on this).
At minimum one Uptree Host will hold a valid Enhanced DBS Certificate.
At no point will students find themselves in one-on-one conversation with any single member of staff or another student. Other students or staff members (Hosts or Co-Hosts) will always be present.
We will ensure that "Breakout room" group sessions contain at least three students, and will be checked in on by at least one Host during the breakout period
While Uptree believes that being able to see one another helps our sessions feel more interactive and personal, we respect that some students may wish to turn their video feed off during the workshop, or parts of it. They can do this using the "Stop Video" button at the bottom of their screen.
All Uptree online workshops will be recorded for use as reference in the case of an incident or dispute, but also for marketing and training purposes. More information on our data management is available in our Online Workshop Privacy Policyand more information on recording can be found in the Recording section below.
Students should find a quiet, comfortable place to sit while attending the session, and we appreciate that in many cases this may be the students' bedroom. If there is anything in the background that they would be more comfortable not showing on screen for any reason, they are free to use Zoom's "Virtual Background" feature by clicking on the arrow next to the "Stop Video" button at the bottom of their screen. This will allow them to use a computer generated image as their backdrop for the duration of the workshop. More details on setting this up, and any technical limitations that may apply, are available here.
Students will be advised that they should not take screenshots or photographs of their screens on their smartphones. Any relevant presentations or worksheets will be provided in digital format.
Behaviour
Uptree's commitment to protecting the young people in our workshops includes protecting students from others who may seek to engage in abusive or inappropriate behaviour. We are well aware that online platforms which offer video and audio functionality are open to many varieties of abuse, and Uptree are clear that we have a zero tolerance policy to abusive or inappropriate behaviour. The following activities are considered abusive or inappropriate and will result in banning from the Uptree platform and all future online or in-person events.
Posting abusive or inappropriate messages in public chat
Sending abusive or inappropriate messages to the host via live chat
Using abusive, insulting, or offensive language over voice call
Sharing inappropriate images via chat or as a virtual background
Attempting to address or contact other students or staff outside of the workshop
Recording & Data Management
Uptree uses Zoom's Cloud Recording function to create a record of all online workshops. However, students should be assured that recordings only store the image of the speaker- so usually the host or anyone who might be answering a question. Recording also does not take place in breakout rooms unless a Host is present.
This data is held electronically for 90 daysand will only be referred to if an incident is reported. After 90 days has elapsed any data stored by Uptree will be deleted.
You can read more about Uptree's handling of data in our full Privacy Policy and the relevant details on how Zoom handles data in our Online Events Privacy Policy(available separately).
Reporting an incident
At Uptree we want all students to feel that they are in a safe, comfortable, and professional environment when taking part in any of our events, including those held online. If any student, teacher, parent, or staff member feels that anything has taken place such as those detailed above, they should feel free to contact us directly at safeguarding@uptree.co.
We will respond to all messages within one working day and, if necessary, involve the relevant authorities as soon as possible.
Further information
There are a number of resources available dealing with online safety for young people, and we would suggest in the first instance that students speak to their school or college directly.
We would also recommend consulting the UK Safer Internet Hotline.