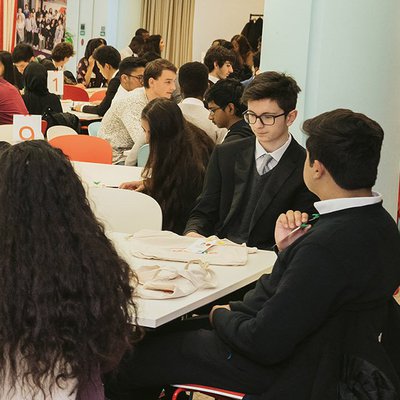 Safeguarding Policy: In-Person Events
In-Person Events Safeguarding Policy

Introduction
Uptree Limited ("We") are committed to protecting the young people who use our services. The purpose of this policy is to provide students, teachers, parents, guardians, and Uptree staff with the overarching principles that guide our approach to child protection in general, and our approach to child protection when students attend events hosted in-person at partner companies ("Placement Provider") or at the Uptree offices.
Note: This policy should be used in conjunction with the Uptree Online Events Safeguarding Policy, available separately, for events that take place online (eg. Zoom/Teams/NOVVA).
In-Person Events Format and Content
Overview
Details of all in-person events taking place at the Placement Providers' offices can be found on the Uptree Events Page, this includes its location, date, time and agenda.
Students who successfully receive a place for an event will receive a number of information emails outlining what to expect on the day, who they will meet and the contact number of the Uptree Team in attendance in case of emergency.
Where possible, teachers/schools are also informed that their students will be attending the event with the relevant details; this information is sent one week prior to the event.
Parents/guardians are sent an information text one week prior to the event with details of the address, time and the contact number of the Uptree Team in attendance.
Health & Safety at the Event
Each event is hosted at the Placement Provider's premises and, as such, the Health and Safety procedures and Privacy Policy of the company are in place. Uptree students attending the offices are looked after in exactly the same way that the company's employees would be: this is a legal requirement.
Uptree works closely with our partners and students to support them before, throughout and after an event.
Best practice for in-person events
These guidelines are used in addition to each Placement Provider's Safeguarding and Privacy Policies*:
Students are never left alone or with just one adult at any time; at least one authorised adult is always present
Adults will not promise confidentiality to students regarding any disclosure and, in the case of concern, the disclosure will be reported according to the Safeguarding Policy of the company
All adults are advised not to connect with students on social media with the exception of LinkedIn
*These policies can usually be found on the company's website but, if it is easier, please contact the Education Team (educationteam@uptree.co) and we can send these to you.
Reporting an incident
At Uptree, We want all our students to feel that they are in a safe, comfortable, professional environment when taking part in any of our events.
For any safeguarding concerns, please do not hesitate to contact the Uptree Team:
Safeguarding Leads: Caitlin Ripley & Melanie Lester (safeguarding@uptree.co)
In case of a concern regarding either of the Safeguarding Leads, please contact: Kelli Wingfield (kelli@uptree.co)
We will respond to all messages within one working day and, if necessary, involve the relevant authorities as soon as possible.
For all safeguarding emergencies, you must contact the relevant emergency services on 999 as soon as possible.
Useful link for further reading
Health and Safety Executive's expectations for work experience Placement Providers.