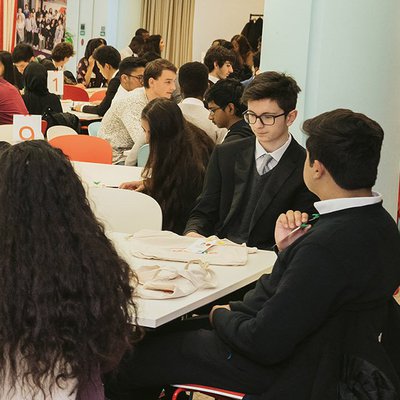 Online Events Accessibility Policy
Online Event Privacy Policy

Introduction
Uptree Limited ("We") are committed to protecting and respecting your privacy. This document is an addendum to the Uptree Privacy Policy with specific regard to live online workshops, assemblies, webinars, and any other event conducted virtually by us at any time. This also covers events hosted by Uptree on behalf of our corporate partners. You can read the full Privacy Policy here.
Uptree
Processing of Personal Information
Uptree will process any Personal Information fairly and lawfully, in accordance with this Privacy Notice and in accordance with the General Data Protection Regulation ("GDPR").
Photo And Video Consent
Please note that at any Uptree event, including those held online using video conferencing software, we may take photographs or video footage for the purpose of marketing. These images may appear on our website, social media and press releases to create awareness of our brand. We may also share the photographs with our partner companies for them to share across social media. By registering for an event with Uptree, you are permitting Uptree to take/use photographs of you and share them with our partners. If you would not like us to take photographs of you, please let us know by emailing the name of the event and your name to schools@uptree.co.
Zoom
Uptree uses the Zoom platform to provide our online careers workshops. Zoom is a widely used video conferencing platform, and a service that Uptree pays for.
Zoom Video Communications, inc. ("They") collects data from its customers (i.e. Uptree) and anyonewho participates in meetings and webinars produced using its service. More information is available in their full privacy policy here, but the crucial points from Uptree's point of view and that of our users are as follows:
Whether you have a Zoom account or not, Zoom may collect Personal Data from or about you when you use or otherwise interact with their Products. They may gather the following categories of Personal Data about you:


Information commonly used to identify you, such as your name, user name, physical address, email address, phone numbers, and other similar identifiers
Information about your job, such as your title and employer
Credit/debit card or other payment information
Facebook profile information (when you use Facebook to log-in to our Products or to create an account for their Products)
General information about your product and service preferences
Information about your device, network, and internet connection, such as your IP address(es), MAC address, other device ID (UDID), device type, operating system type and version, and client version
Information about your usage of or other interaction with their Products ("Usage Information")
Other information you upload, provide, or create while using the service ("Customer Content"), as further detailed in the "Customer Content" section below:

Customer Content is information provided by the customer (in this case Uptree) to Zoom through the usage of the service. Customer Content includes the content contained in cloud recordings, and instant messages, files, whiteboards, and shared while using the service. Customer Content does not refer to data generated by Zoom's network and systems (i.e., data that Zoom creates because the customer is using the system (e.g., meeting routing information and other meeting metadata).
If you participate in a Recorded Meeting or you subscribe to Zoom cloud recording services, they collect information from you in connection with and through such Recordings. This information may include Personal Data. Meeting hosts (in this case Uptree) are responsible for notifying you if they are recording a meeting, and you will generally hear a notice or see an on-screen notification when recording is in progress.
Much of the Personal Data Zoom collects, they collect on behalf of their customers. (More specifically, for purposes of GDPR and CCPA, they are the "Processor" of that Personal Data, acting as a service provider on behalf and at the direction of their customer, and their customer is the "Controller" or decisionmaker.) For example, the customer may determine when meetings can be recorded, how long they are kept, and the like. Zoom are typically required to follow a customer's instructions related to Personal Data they have collected on behalf of that customer. On a customer's instructions, they may provide reports containing Personal Data relating to the customer's account.
Zoom does not exchange your Personal Data with third parties for payment, even if you do not opt-out of the "sale" of information. If you opt-out, they will adjust your preferences accordingly.


Erasure:You can request that they erase some or all of your Personal Data from their systems.
Restriction of Processing:You can ask them to restrict further processing of your Personal Data.
Portability:You can ask for a copy of your Personal Data in a machine-readable format. You can also request that they transmit the data to another entity where technically feasible.
Withdrawal of Consent:If they are processing your Personal Data based on your consent (as indicated at the time of collection of such data), you may have the right to withdraw your consent at any time.
Right to File Complaint:You have the right to lodge a complaint about Zoom's practices with respect to your Personal Data with the supervisory authority of your country or EU Member State.
Under certain circumstances they will not be able to fulfill your request, such as if it interferes with their regulatory obligations, affects legal matters including a Zoom user's rights to data contained in their account, they cannot verify your identity, or it involves disproportionate cost or effort. But in any event, they will respond to your request within a reasonable timeframe and provide you an explanation.

If you reside in the European Union ("EU"), United Kingdom, Lichtenstein, Norway, Iceland or Switzerland, you may have legal rights with respect to your Personal Data, including those set forth under the EU's General Data Protection Regulation ("GDPR").
If you have any questions at all about any of the topics covered in this document, please get in touch with our team at info@uptree.co.
Uptree Limited
131 Finsbury Pavement, London, EC2A 1NT
Company number 09641286